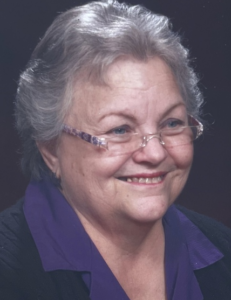 Linda passed on 4/14/2023, ten days before her birthday, she was 81. I (Roberta C.) worked with Linda for several years, both at TG&Y and AIG. She was always smiling and friendly. I remember when she married Jim. They traveled to Hawaii and she came back talking about selling popcorn on the beach. The dream was short lived because Jim passed away shortly after….her heart was broken but she faced the world with the same smile and fiery attitude we all remember.
Linda was an avid quilter and lived her life with a smile on her face, with arms ready to offer a big hug, and with a heart full of love. She was always telling stories to anyone who would listen and made everyone around her feel special and loved, not just by her, but also by Jesus Christ.

She worked for TG&Y headquarters in Oklahoma City then later at Applied Intelligence Group in Edmond. Following her retirement, she worked in the fabric department at the Norman Hobby Lobby.

From Linda's Obituary posted by her son on Facebook.